Rent workwear, save the planet
Renting workwear enables automotive companies to show their dedication to a greener future by making a sustainable choice every day. In addition to protecting the environment, the service brings other benefits like lower costs and time saved.
Renting automotive industry workwear
Are you looking for effective and sustainable business solutions? Our rental workwear is one of them.
Needs assesment and procurement
We help you determine the different workwear needs in your company to make sure all your employees get appropriate workwear for their tasks. We fit the garments for your employees and make any needed custom changes on them. We take care of the procurement and start your weekly service with the first workwear delivery.
Laundry and maintenance
We wash and maintain your workwear weekly. At our laundry, we check all the workwear and repair them, if necessary, according to your company standards. Any damaged workwear we replace with new garments on the next delivery.
Delivery and storage
We deliver clean workwear every week and at the same time, take used garments to our laundry. Workwear will be delivered directly to each employee's own locker or other predetermined place. If you have a lot of seasonal changes in your workwear needs, we can also store workwear on your behalf.
Recycling
We recycle most workwear that can no longer be used for their original purpose. We give used workwear a new life as other products or discard them responsibly.
Benefits of renting workwear
Clean clothes always available
Staff members are supposed to be provided with protective workwear and it has to be regularly maintained. With Lindström taking care of maintenance, you will always have clean workwear in good order, and your corporate name and logo on it, too.
Cost-effective
By renting your workwear, you no longer have to invest in keeping workwear in stock and taking inventory, nor does space have to be put aside for storing it.
Recycling and circular economy
The Circular Hub Prague's information sheet points out that the life cycle of up to 95% of products end only six months after they are purchased. The main role of the circular economy is to respond to such a short life cycle and imagining a waste-free concept. The central idea is to minimise waste and turn what has been generated into resources. Workwear rental is accordingly derived from the circular economy's fundamental principles. Any discarded clothing turns into a new product.
Industrial washing saves energy and water as it helps the environment
What is the difference between in-house and factory washing? It's bigger than you think. If you opt to rent your corporate garments, you can rely on them being properly and hygienically cleaned, while professional washing also protects the environment. Make your own calculations with our sustainability calculator: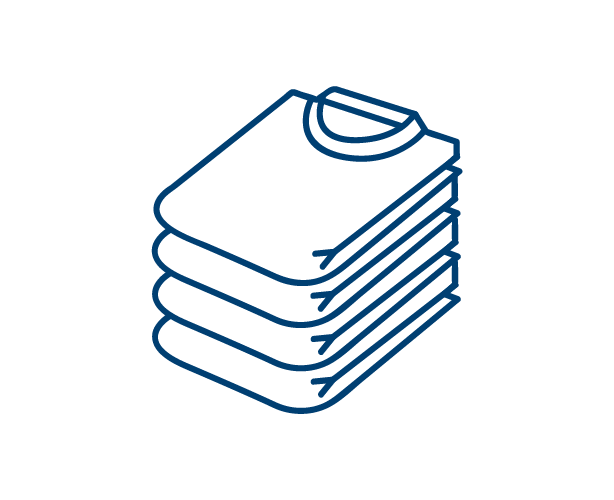 Industrial washing
Home washing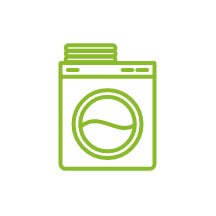 Water
VS.
Save
water / year
with Lindström services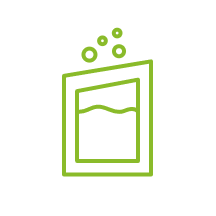 Detergent
VS.
Save
detergent / year
with Lindström services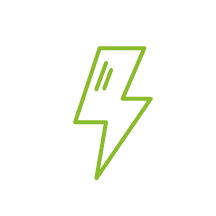 Energy
VS.
Save
energy / year
with Lindström services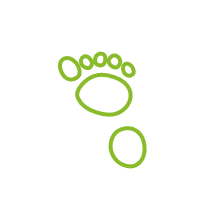 Carbon Footprint
VS.
Save
CO₂ emissions / year
with Lindström services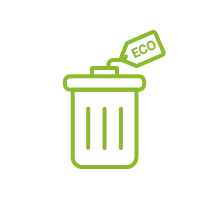 Textile Waste
VS.
Save
of textile waste / year
with Lindström services
Example: Energy and water you save from industrial washing by Lindström
If your company washes 3,000 pieces of clothing each month, the water it consumes from washing workwear will be 24,800 litres per month, but it would be only 9,862 litres every month if you opt for industrial washing.
You would need 45 kilograms of washing powder each month washing in-house compared to less than 23 kilograms for industrial washing over the same period.
As for energy, you would be using 1,700 kWh every month if your company washed workwear itself, but only 1,129 kWh per month would be used were it washed in a factory.
You would need 979 kilograms of washing powder each month washing in-house compared to less than 296 kilograms for industrial washing over the same period. How about textile waste? You can expect 53 items of clothing to be thrown away each month if your company washes its own workwear, while outsourcing it translates into 104 repaired clothes that can be worn again.
How much can Lindström save you each year? For 3,000 garments, Lindström's industrial washing would save you in a year 179,259 litres of water, 217 kilograms of washing powder and 7,527 kilowatt hours of energy, with 8,927 kilograms less CO2 emitted and 242 kilograms less textile waste.
That's worthwhile for you, isn't it?
Lindström's workwear meets all standards and requirements
Lindström's automotive industry workwear dresses your employees and protects them in compliance with occupational safety requirements.
The clothing they wear is not only functional, but also durable and comfortable. High quality materials are used in all automotive workwear Lindström produces such as ProTwill 245, ProStretch 210, 220, ProDenim Stretch 240, Fleece 250, Softshell 220 and Sweater Knit 290 or 300. They include boiler suits, overalls and trousers, combination coveralls, work jackets, blouses, T-shirts, sweatshirts and coats. There is also reflective and bright-coloured workwear for increased visibility and for professionals working in electrical engineering, welding and metal cutting.
Chipped work clothes so you know where everything is
A wonderful advantage you get out of renting automotive industry workwear from Lindström is its line of chip-embedded clothing. The chips embedded in the workwear always give you an accurate overview of what your staff has available and lets you easily find any item online. This system makes it virtually impossible for workwear to get lost.
Pick up service
Lindström's service technicians pick up worn garments at customer locations. They scan the clothing and take them to the Lindström laundry room. You immediately see your workwear leaving the site and heading on the way there.
Keep track
When the clothes arrive at Lindström's laundry room, they are scanned again and registered for washing. You can watch online how each individual workwear garment goes through all washing stages.
Drop off
Our service technicians then return your workwear cleaned for you to scan and then store in your staff lockers. This gives you a precise overview and control over the stocking, circulation and use of the work clothes your employees wear.
Next step
Do you want to know more?
Fill out the contact form, and we will get in touch!