Employee locker rooms and changing rooms are an important part of every workplace. Not only do they help keep the area clean and tidy, but they also increase the comfort and safety of employees. By law, changing rooms must be set up for those employees who must wear work or protective clothing and cannot change in another area for some reason. Changing rooms must provide appropriate privacy and should be located in easily accessible areas near bathrooms.
Basic rules for arranging a dressing room for employees that you may not have thought of.
Spacious Locker Rooms
Locker rooms should be large enough for employees to change clothes comfortably and store their belongings. It is also important to think about the fact that people can go to work, for example, by bicycle. Some employers support this type of transport and are ready for it. Their changing rooms are spacious enough, equipped with secure storage, shelves, racks and nearby showers.
Individual Locks
Another important element are individual locks. Employees should be able to lock their cabinets or staff lockers to prevent their personal belongings from falling into unauthorised hands. When storing important items like their own wallets, mobile phones and personal effects, it's important that employees know they are safe and secure throughout the working day.
It may be important to consider a variety of lock options that provide security to the employees and also to trusted management. For example, the addition of a master key allows you to unlock all lockers at once. This key is used, for example, by the shift manager to check the lockers or the service technician to replenish clean clothes. Thanks to this, he does not have to unlock each locker separately.
Changing room hygiene
Changing rooms should be regularly cleaned and disinfected to minimise the risk of spreading diseases. Employees should have clean towels and soap available to wash their hands.
Cabinets for Lindström work clothes
At Lindström, in addition to the rental service of work clothes, we also rent you practical lockers for employee locker rooms. Each employee will have their own compartment, and the system also includes a separate locker for collecting used clothing.
All lockers are provided with an individual key. The universal key will then make it easier for managers to check the changing rooms and for Lindström workers to efficiently distribute clean clothes to each employee.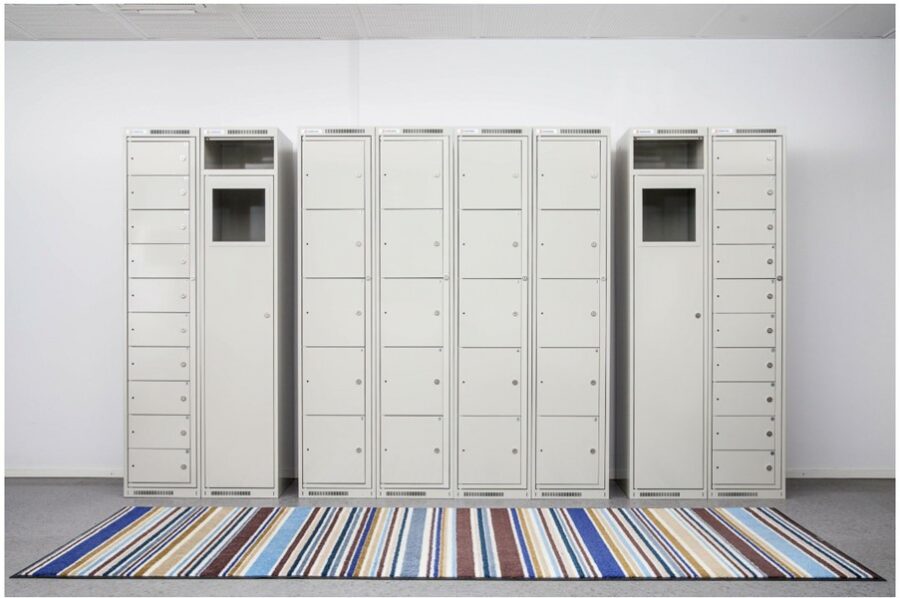 If you would like to find out more about our locker service, contact us.
Examples of typical work attire for employees
Construction workers should wear clothing that is made of strong materials and has reflective elements for good visibility. Clothing must be resistant to moisture, abrasion and tears. In addition, construction company workers should have safety helmets, gloves, safety glasses and safety shoes.
Healthcare workers such as doctors, nurses and technicians must wear clothing that is sterile and hygienic. This includes medical gowns, tunics, trousers or lab coats and medical slippers.
All of these garments can be rented from Lindström as well as a full laundry service, so what are you waiting for? Take the hassle-free option and ensure that your locker room is up to the latest legalisation, and is one that invites all your staff to feel like it's their own.