Rental textile services for the Pharma industry
When it comes to the pharma industry, every second counts in saving lives. That's why it's crucial to have a reliable partner to manage your garment needs. With our team of experts, you can trust that compliance, hygiene and quality are never compromised. By letting us handle your workwear management, you can focus on what truly matters – developing life-saving medications that make a difference to the world.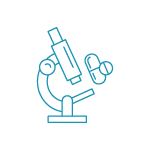 Ensure product and personnel safety
Reduce the cross- contamination risk during the production phase and hence avoid unwanted audit observations which may even lead to product recalls. Our garments are specifically designed as per IEST-RP-CC003 so as to protect your products from contamination and particles.
Guaranteed GMP compliance for your textiles without major incremental investments
Concentrate on your core competence and leave quality and hygienic standards of the garment to us. Our textile rental service keeps you updated on latest garment regulations with constantly monitored quality controls. We take care of the GMP rules and regulations in cleanroom textiles and workwear garments.
Ensure your garment and textile management is up to the standards
Our garments and laundry processes are certified by ISO-9001, ISO 14001, ISO45001 and EN14065, guaranteeing that highest of hygiene and quality standards are followed throughout the garment lifecycle.
Transparent data flow and garment tracking
Track cleanroom garments with full transparency and access to data through-out any phase of the processes. Thanks to the RFID technology and digital eLindström platform, you can have full transparency of your garment orders and see, in which stage of the circulation garments are.
Our services for pharma industry
Choose the circular economy, Choose Lindström !
Customer testimonial