Topic – Why Employee Empowerment Is Key to Your Work Culture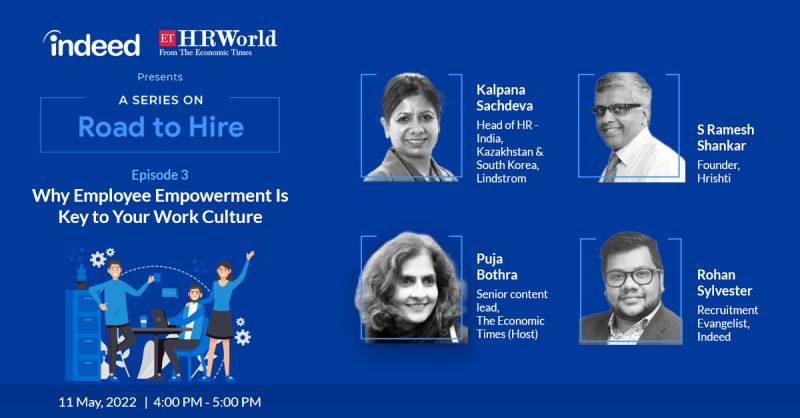 At present, we are experiencing diverse formats of working. As more people prepare themselves to go back to work in offices, we are coming to quickly realise it is not the same as before.
Employers are willing to give more flexibility to work from anywhere. This unprecedented policy change is one of the many examples of culture reform that took shape in recent times due to digitalization and the mindset shift to track outcome and not output. Policies and practices like these have become universal expectations and, if not met, can lead to exits and low talent attraction.
Employee productivity matrices further accentuate that a trusting and safe environment not only empowers the workforce but leads to a more innovative and resilient workforce. This is particularly critical in hybrid workplaces and as people return to offices. To that point, we have curated an invigorating session on the realm of possibilities in empowering the workforce to draw attention to a truly people-first culture as we enter a new age of working, post-pandemic.
Discussion Points
The different stages of a people-first culture in a hybrid work era
Driving innovation and resilience in the new age of working
Metrics to track employee wellbeing & fulfillment
Tools and techniques to empower a cross-generational workforce
Designing psychologically safe and happy workplaces of future
Speakers -:
Kalpana Sachdeva – Head of HR – India, Kazakhstan & South Korea, Lindstrom
S Ramesh Shankar – Founder, Hrishti
Puja bothra – Senior content lead, The Economic Times (Host)
Rohan Sylvester – Recruitment Evangelist, Indeed
Watch the recorded session https://hr.economictimes.indiatimes.com/webinar/why-employee-empowerment-is-key-to-your-work-culture/1963