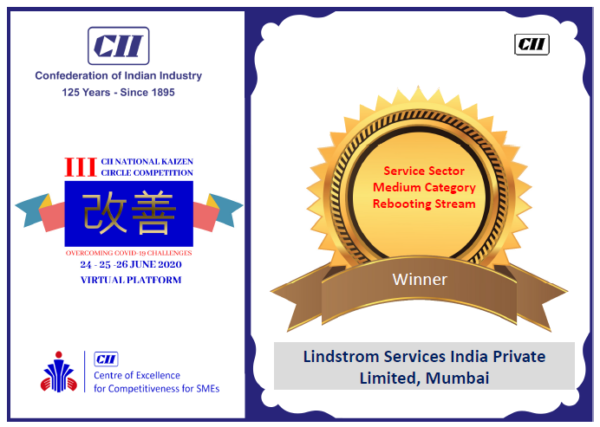 Concept Recognition BY CII
CII (confederation of Indian Industry) annually conducts National KAIZEN Circle Competition. Lindstrom India Team participated in category Rebooting Kaizen (enablers for overcoming Covid 19 Challenges) and shared how Reusable Mask Service adds value to ongoing challenges of pandemic and environment. Concept was appreciated by Jury & LI team won First Prize in category where bigger giants like Tata / Honda / CholaMandlam / Escorts etc groups has also participated.
Reusable Mask Services
In the current COVID 19 Pandemic situation, world has decided to plan its living along with Virus, Business & Hygiene are going hand in hand. At the same time, need of mask is much higher than any other safety equipment. Masks are mandatory for everyone to wear as per WHO guidelines. WHO has also shared the mask washing and its disposal procedure, infectious mask should not be thrown out as a litter due to risk of spreading infection. It is in this scenario that Reusable Face Mask Service launched by Lindstrom, can play an important role.
HOW?
Reusable Face Mask Services is not only a sustainable solution but at same time it supports in reducing the risk of spreading the infection. The way the service is designed, masks are not disposed of after single use but are reused multiple times. This helps reduce the current environmental challenges of Waste Management and spread of infection at the same time
HOW REUSEABLE MASK SERVICES WORKS
Lindstrom team pick up the infected mask from customer site, which are dropped in 3-different layer fabric bag and carries to ISO certified laundry in close delivery vehicle. At laundry Mask are washed along with the bag inner most layer (which is holding infectious masks) under chemo thermal wash process at industrial laundry. After completion of entire washing process, these hygienically cleaned Masks are dropped in close delivery van inside the fabric bag at customer site.
It is validated by Bio Tech Testing Labs IN and Eurovir Hygiene Lab GMBH by using Parvo Virus that mask washed under chemo thermal wash process can kill virus by 99.999%. Chemical used in wash process are approved by CDC (Centre of Disease control and Prevention)
Note: Parvo virus are heat resistance virus and much stronger than coronavirus.
Currently approx. 40k pcs in circulation at Lindstrom different laundries
​